Fly Control | Fly Treatment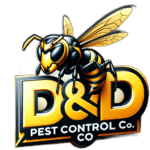 House Fly Facts
House flies feed and breed on garbage, sewage, animal excrement, and other nasty substances.
A female fly can lay 600 eggs in her short lifetime.
Flies can carry over one hundred different kinds of disease causing germs.
When a house fly lands on a food source it will vomit a acid to help break down the food so they can suck it up.
Our Fly Control Program
D & D Pest Control Co's house fly control program is designed to eliminate flies in restaurants, homes, business. , Our treatment is discrete and effective – No sticky traps, light traps or flyswatters!
Fly treatments can also conveniently be performed exterior, so you don't have to be home!
This program can be adjusted to meet your pest control needs and scheduling requirements.
D & D Pest Control's house fly program may be used to control house flies at many locations, such as: Restaurants, grocery stores, homes, picnic areas, weddings, parties, cook outs, etc.
Our pest technicians are both the training and have first-hand experience to correctly identify and eradicating any Fly. Properly identifying the fly species is the first step in making your home or business fly free.
D & D Pest Control Co. Professional exterminator's can provide the certification needed to backup our claims as being the most dependable, trustworthy and best pest control company in Kinston, LaGrange, Pink Hill, Deep Run, Snow Hill, NC. Every employee has met the strict requirements we have in place. Each has been fully vetted through both the local and North Carolina Authorities, and they have been trained or certified, and insured in order to meet all North Carolina Regulatory Compliance Standards.
---
For professional Fly Control extermination in the Kinston, North Carolina area, call D & D Pest Control Co. at (252)523-8255.  Or fill out a contact form for quick, effective  fly eradication in Lenoir County North Carolina. 
 Service Locations
 Jacksonville • Richlands • Kinston • Greenville • New Bern • LaGrange • Havelock • Camp Lejeune • Cherry Point • Farmville • Winterville • Grifton • Ayden • Snow Hill • Trenton • East Carolina University (ECU) • Vanceboro • Pink Hill • Grimesland • Simpson • Seven Springs • Deep Run • Hookerton • North Carolina NC